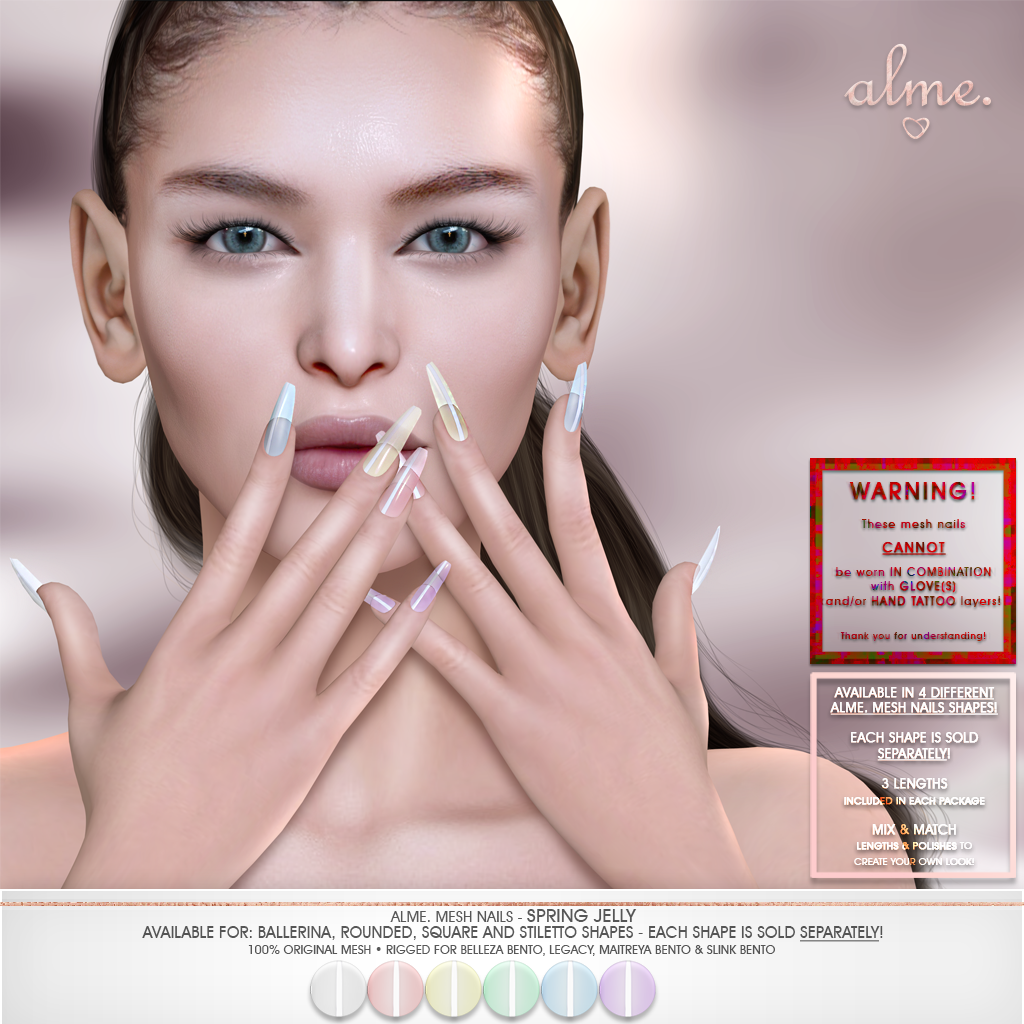 "Alme Mesh Nails// Spring Jelly" in square,rounded,ballerina, stiletto
★ We're celebrating Spring with the cutest pastel colors on our nails!
"Spring Jelly" set is on promo price for the weekend available in 4 different nail shapes (stiletto,rounded, square & ballerina- each shape sold SEPARATELY).
Each nail shape contains mesh nails rigged for Belleza Bento, Legacy, Maitreya Bento & Slink Bento and the nail applier that works ONLY with our mesh nails in 6 shades! Use the hud to choose from 3 length options and fully customize & mix & match your nails!
▬ Each nail shape is sold separately!!!!
▬ WARNING! These mesh nails CANNOT be worn in combination with the glove and/or hand tattoo layer!
▬ The group discount does not apply for these items as they are already in promo price!
▬ Available here: http://maps.secondlife.com/secondlife/joia%20azul/54/74/3502
▬ These items will return to their original price after the weekend!
___________________________________
alme.
ChloeElectra Resident
Main Store. goo.gl/sN37xQ
SL Marketplace Store. goo.gl/lxCf4G
Blog. almeinsecondlife.blogspot.com/
Facebook. www.facebook.com/almeinsl/
Flickr. www.flickr.com/groups/almesecondlife/
#secondlife #almebyChloeElectra #Belleza #Maitreya #Slink #nailsappliers #meshnails #bento #bentosl #bentonails #stilettonails #squarenails #ballerinanails #roundednails