New Releases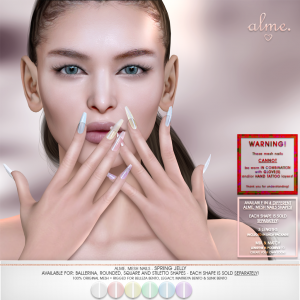 "Alme Mesh Nails// Spring Jelly" in square,rounded,ballerina, stiletto ★ We're celebrating Spring with the cutest pastel colors on our nails!
Why alme.?
It has been our mission from the beginning to provide our customers with nail polish they can use on several popular mesh body parts. Without having to pay extra.
We seek to create original and unique nail designs that will appeal to a variety of tastes.
We seek to achieve the golden balance between quality, customer satisfaction and pricing. Therefore, we do not believe in secret charges or overpriced products.